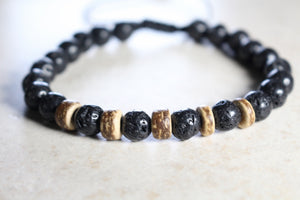 KD-0068 Adjustable Lava and Wooden Bead Bracelet
Lava beads are cooled lava rock that has been cut into beads. It has calming properties and can be used with essential oils for aromatherapy. The beads in this bracelet are 10mm.
Who can wear this? Men and Women
What materials are in this? Lava beads, wood beads, cord
How do I select my size? This bracelet fits wrists up to 9 1/2 inches. This bracelet is adjustable but should still fit snug so please measure your wrist according to instructions prior to selecting your size.